Coach Training with Culture at Work
Become a coach with our ILM Accredited online Executive Coach Training course. This is a global coaching course and includes everything required to become a professional executive coach and/or an authentic coaching manager. The Executive Coach Training course is accredited by the Association for Coaching (AC) and the ILM, and meets the definition of "coach specific training hours" required for accreditation as a coach by the International Coach Federation (ICF).
The Executive Coach Training 
Course was designed by coaching pioneers Sir John Whitmore and Carol Wilson (both pictured delivering the first course in 2007 with our Head of Training James Wright).
The training is based on the GROW model, incorporates Tim Gallwey's "Inner Game" principles, the Association for Coaching (AC) and International Coach Federation (ICF) competencies, and  benefits from Carol Wilson's experience as a corporate MD and director in industry, including ten years at board level with Sir Richard Branson.
Our online coach training, which has proved to be as inspiring and energising as live training, because of the highly interactive nature of the training, with frequent breakouts into pairs and small groups.
Who is this course for?
The Executive Coaching Course is for anyone wishing to become a coach, whether internal or external, a leader managing in a coaching style, or people who want to improve their skills in communication and emotional intelligence. People who attend this course tend to be:
Managers at all levels in the workplace
Executives and independent practitioners
Learning and Development Heads
HR Executives
Teachers
Therapists
Clinicians
Consultants wishing to enhance their coaching skills or add coaching to their portfolio
Coaches wishing to increase their credentials with CfPAC, the ILM, the AC, or the ICF
People wishing to coach in any area: coaching skills are fundamental and as well as being useful in organisations can be applied to any field, eg personal, health, fitness, education, finance and running a small business.
What does this course cover?
The Executive Coaching Course covers foundation coaching skills, the GROW model, coaching structure, and raises awareness of self and one's impact on others:
Listening
Questioning
Clarifying
Permission Protocol
The coaching-mentoring-managing continuum
The Coaching Mindset
Goal setting
Structure for single sessions and series of sessions
Strategic action planning
The GROW model
Team Coaching with GROW: the Generative Thinking Meeting
Managing a coaching business
Best practice
An introduction to supervision
Self-limiting beliefs
Resolving conflict
Association for Coaching (AC) Global Code of Ethics
Association for Coaching (AC) Competency Framework
International Coach Federation (ICF) Code of Ethics
International Coach Federation (ICF) Core Competencies
Worksheets for Coach and Coachee
A comprehensive 90-page reference manual is provided along with copies of the slides, and worksheets for coach and coachee.
How long is this course?'
This online coach training course is delivered over approximately 2 months, comprising either 4 full-days (6 hours' training per day) plus assessment or 6 half- days (4 hours' training per day) plus assessment.
Engaging and enjoyable practical assignments are provided in order to embed the learning for a successful outcome, including co-coaching, reading, reflection, and delivery to coachees outside the course.
For candidates who wish to go on to undertake accreditation as a coach with the International Coach Federation (ICF),  there is an optional Extra Module comprising 22 hours of one-to-one coaching and mentoring, which together with the Executive Coaching Course fulfils the requirement of 60 hours of "coach-specific training" for ICF coach accreditation.
The mandatory modules of the course fulfil the coach training element of coach accreditation with the Association for Coaching. The optional Extra Module increases coach training hours to meet the AC's criteria for Master Coach certification.
In addition to the classroom learning provided during the training sessions, the Executive Coach Training course incorporates practical assignments including co-coaching among the participants in between the training sessions, in order to embed the learning and develop fluency and authenticity in coaching.
The Executive Coach Training Course is:
Designed by coaches for coaches
Open to global participation, with time options to suit Eastern and Western time zones
Structured in a practical way to embed the skills for the long term and to use participants' time efficiently
Uses best practices refined and shaped by the feedback of hundreds of attendees
Draws on proven methods including the GROW model, Tim Gallwey's Inner Game, Nancy Kline's Thinking Partnership, David Grove's Clean Language, and the use of unique and novel learning techniques
Provides CfPAC Certificate and ILM Recognised Certificate & Digital Credential, and puts you on the pathway to further accreditation obtainable through the Association for Coaching (AC), the International Coach Federation (ICF), and the ILM.
Certification and Credentials on the Executive Coach Training Course
This course provides full accreditation as a professional coach and meets the training course requirements for coach accreditation with the Association for Coaching (AC) and the International Coach Federation (ICF).
After successfully completing the mandatory modules of the course, including assessment, participants receive:
The credential CfPAC (Coaching for Performance  Accredited Coach) which incorporates the title of Sir John Whitmore's bestselling book in recognition of his contribution to the design of our Executive Coach Training course.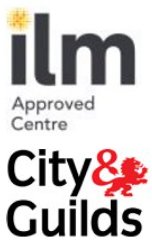 An ILM Recognised credential. The ILM is the leadership arm of City & Guilds, the foremost provider of workplace coaching qualifications in the UK and recognised worldwide. We are also able to supply ILM  Level 5, Level 7, and Level 7 Diploma credentials. For more details please visit our Coaching Accreditation page.
This course is accredited  by the Association for Coaching (AC) and meets the AC's coach training requirement for Professional Coach and Professional Executive Coach accreditation. Adding the optional Extra Module renders the course eligible for the coach training requirement for the AC's Master Coach accreditation. Please note that the AC has its own application process, fees and criteria for accreditation as a coach. You can find full details on the Association for Coaching website.
Adding the optional Extra Module meets the  "coach specific training hours"  requirement by the International Coach Federation (ICF) for its membership and ACC coach accreditation. Please note that the ICF has its own application process, fees and criteria for accreditation as a coach. You can find full details on the ICF website. 
Free membership of the Association for Coaching
Every participant on our courses receives 12 months' membership of the Association for Coaching  as an integral part of the course, free of charge.
This provides access to a wealth of information and support that is an invaluable benefit to those becoming professional coaches or looking to improve their leadership skills, as well as reduced priced attendance to the Association's wide spread of coaching events, co-coaching and coaching supervision.
Membership benefits are the equivalent of the Association's Associate level individual coach accreditation.
Free access to the ILM Walled Garden
Every participant receives free access to the ILM knowledge bank, the Walled Garden, for the duration of their training.
Executive Coach Training Course dates 2024
This is an online coach training course delivered on the dates below. Training times are 13.00– 17.00 London time (please be aware of British Summer Time changes if you are attending from another time zone).
If this time zone does not work for you, please scroll down for details of our Autumn course which runs 08.00 – 12.00 London time (please be aware of British Summer Time changes if you are attending from another time zone).
Practice assignments in between training sessions total 17 hours of co-coaching with course partners, coaching a client who is not on the course, reading, and reflective practice. Added to this are approximately 24 hours of practical application of coaching skills in everyday conversations and situations, whenever it is appropriate to use them.
->  To book your place on this course, click here.
->  For further information, please contact us.
Online Executive Coach Training Course fees

The great majority of our corporate and individual clients opt for the ILM Recognised credential because it requires less theoretical essay writing and is less costly than the ILM Levels credentials. For more details on ILM credentials please visit our Coaching Accreditation page or contact us.
Concessions
VAT: When applying for CfPAC or ILM Recognised Credential,  applicants not registered for VAT may pay a reduced rate which includes VAT for the course fee only. This concession is awarded at our discretion and does not apply to applicants sponsored by organisations registered for VAT. To find out if you are eligible please contact us.
Scholarships: In cases of hardship, for example unemployed or low-paid candidates,  we occasionally award scholarship or reduced price course fees. Please contact us to arrange a phone interview if you believe you may be eligible for this.
NB: Please note that all VAT and price reduction concessions are available only on the course comprising Mandatory Modules for candidates requiring CfPAC and the ILM Recognised Credential. If candidates wish to undertake the Extra Module and/or  ILM Levels credentials, either at the time of the course or later, the full course fees, block booking discounts and VAT on the concessions will become payable.
Reductions for block bookings: There is a reduction of approximately 10% per booking for block bookings (two or more participants) on all modules.
Reviews of the online Executive Coach Training Course
"A wonderful experience. A structured way of approaching coaching with new experiences, relationship building, personal fulfilment, content, tips, sharing. James was superb, thanks a lot! The Coaching Training was not only useful at that time, it is still the case today, with a lot of practice it helped me boost my Coaching experience" – Graciela Borasio, Global HR Director Finance & IS, PMI.
"These were truly the best 5 days of professional training I've had so far. As a participant of the Open Executive Performance Coach Training I have found the programme to be exceptionally well designed and delivered. Our very experienced and inspiring executive trainer James Wright has simply done an excellent job of providing us with all the necessary tools to be professional coaches." – Uliana Oleynikova, Coach & Trainer.
"The course was exceptionally well structured. I did an immense amount of research prior to registering – including having career transition coaching. This programme was suggested to me as (and I quote) 'the most kosher one out there'! Carol's publications (both her excellent book and article I read) also added weight and credibility. This is the kind of course that changes lives. Simple, well thought out and delivered beautifully. Bravo!" – Mandy Lehto, Performance Coach and Development Professional
"The performance coaching course was absolutely fantastic. The balance of time spent on theory and practice was just right, first giving participants a flavour of the latest developments in coaching theory, deepening that understanding through informal discussion, and then putting it into practice. The relaxed environment James created made me feel at ease and really encouraged all participants to just give it a go. The course has really changed my way of working both through the skills I've learned and through the self-reflection that comes with coaching and being coached. It has also given me great clarity on my own goals – a real testament to the quality of the coaches James produced on this course!" – Kim Taylor
"Having attended and delivered many training courses, this felt very different as you had lots of time to apply your learning and practice real life scenarios within a safe environment. A fantastic group of individuals with different life skills, experiences, cultural backgrounds and coming from near and far to learn, develop and grow. Wonderful to make new friends and learn so much in such a short space of time – thank you to everyone involved from James, Carol Wilson, Tracey and my fellow Coaches – we all rock!!!" – Andy Patel, Sales Capability Manager, Mars UK Chocolate Division
"This was an excellent programme delivered in a very supportive, relaxed and intimate environment.   Each day I could feel myself growing in ability and confidence in my coaching. A vital part of my learning development was being part of a group of fellow learners who brought with them a rich depth of experiences, knowledge and friendliness who were as much part of the learning environment as our facilitator.  Our facilitator was very effective and in his easy-going style he stretched our minds and challenged our abilities.  I am very glad I completed the programme and I am now eager to pursue further coaching relationships in my role in the NHS." – Gary Tolometti, Learning and Leadership Programme Manager, Royal Free London NHS Foundation Trust
"Thank you so much for this, I cannot begin to explain how valuable this experience was and impactful in a period of transition for me. The course is life-changing in so many ways and the skills deeply transferable to any sector. I feel much more equipped and confident and intend to continue the work and refer others to your organisation. James was a formidable teacher, calm and instructive, always finding the light in each person."   R.M. Sánchez-Camus – EDI Coach
"As a result of the programme I personally have addressed issues with a team member, started jogging and discussed work stream issues with my manager – all resulting in positive outcomes. I have used my new skills to coach people within the workplace and have a queue of people waiting." – David Cooper
"The course was excellent. It was enlightening, exciting and life changing. It was highly professionally run, inspirational, informative and with a great bunch of people. I was particularly impressed by the level of integrity exhibited by all concerned." – Felicity Hawkins, Communications Consultant
"I would recommend this programme to anyone interested in coaching. The materials are very readable and a useful resource; the trainers were fantastic and very willing to share experiences with us, and we got loads of time to practice. This learning was reinforced by the break before the final day when we were tasked with more practice. Superb!" – Janet Bell – Director HR Matters
"I have entered this journey as a way to test the water and get closer to something I have always felt was close to my purpose. The coaching framework (and me being a coachee and a coach) has allowed me to shed light on quite a few blind spots and I feel now hooked to this experience and journey. Listen actively, keeping the framework and tools close, being detached as the key to being useful, but above all trusting the process and being my authentic self are the principles I take with me as I embark on this exciting path of knowing me and helping others along the way." – Jose Enrique Gonzatti, Delivery Director Visa Managed Services for Europe.
"Reflecting on all of these sessions, I can see that using the EXACT model to prioritise goal areas is vitally important, especially when the Coachee comes with such a broad goal, it is a great tool as it helps to structure the session and also allows you to move through the GROW model with all exploration being goal focussed." – Malini Craig, Witton Park Academy
"I actually really like the online format. Zoom works perfectly and it is great to be able to do this course from the comfort of my own home." – Svenja Keller FPFS, Killik & Co UK.