Our Coaching Courses
Our signature GROW coaching and mentoring training course is part of
our certified portfolio of ILM leadership coach training courses. This programme includes everything required to become an accredited coach, or an authentic coaching manager. We have delivered this coaching course both face-to-face and on-line in 33 countries and several languages over the last 15 years, and it has often been named as the best leadership course that the participants ever attended.
Based on Sir John Whitmore's time-honoured GROW model, and delivered live or virtually, this training  will transform a manager's leadership style, and the practice with other participants brings about a change in self-awareness, energy, potential and personal impact at a profound level.
The GROW model
We are sometimes told that participants on our courses who have trained in coaching skills previously, never really understood how to use the GROW coaching model until taught by us. We have the rare advantage of having had the GROW model explained to us by Sir John Whitmore himself, during our partnership over the last ten years of his life.
The secret lies in the flexibility of the GROW model, and the ability to understand the purpose behind each category of questions.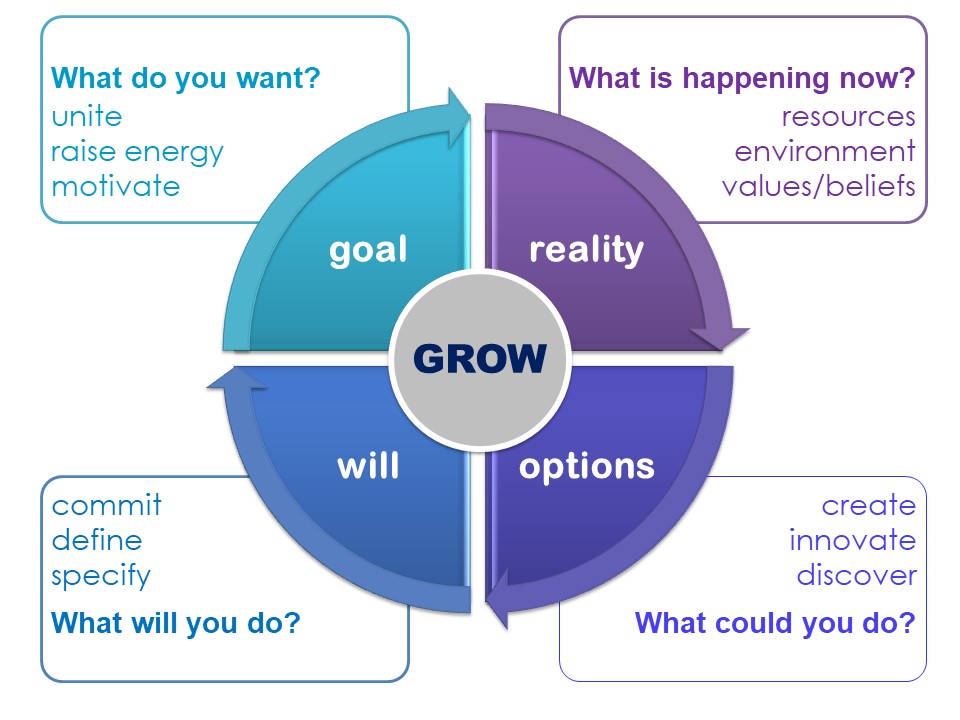 Virtual GROW coach training has proved to be as effective as face-to-face.
Our coach training courses:
are designed by business people for business people
are structured to be practical, embed coaching and mentoring skills for the long term and make efficient use of participants' time.
use best practices refined and shaped by the feedback of thousands of participants.
are based on proven methods, like the GROW model, and the use of unique and novel learning techniques developed by Carol Wilson, and directly acquired from Sir Richard Branson, Sir John Whitmore and other thought leaders in the coaching arena, including Tim Gallwey, David Grove, and Nancy Kline.
are designed by former corporate Managing Director Carol Wilson, drawing on 25 years of business experience including 10 years working at board level with Sir Richard Branson.
are relevant to today's highly pressured, cross-cultural workplace.
ILM accreditation

We are an ILM Centre  – approved to deliver Endorsed, Level 5, Level 7, and Diploma ILM coaching and mentoring courses. The ILM is the UK's awarding body for general and specialist management qualifications. It is the leadership arm of City & Guilds, which awards NVQ qualifications, and its awards are internationally recognised.
Our coach training team
All our coach trainers are fully qualified in our methods and have worked with us  delivering GROW coach training for managers for between five and twenty years. They all have experience as managers in the workplace themselves, as well as at least ten years' experience at delivering coaching and coach training to managers at all levels of seniority including CEO. Our trainers are experienced coaches specially selected for their presentation skills, empathy and ability to provide a safe, though challenging, training environment.
Our approach to coaching and mentoring training
Our coaching courses are fast moving and intensive. The content is pragmatic and constantly adjusted to relate to the participants' own workplace and unique challenges. We believe that every minute in the  training room must deliver something useful and practical for participants to take away.
The training consists of demonstrations by the trainer with volunteers, group discussions and participant practice. People learn by doing and focus what is relevant to them as individuals. In between the training sessions there are practical assignments enabling participants to integrate the skills, experiment and stretch themselves within the safety of practise sessions with a partner from the course, so that they can develop their own unique way of using coaching skills in tune with their leadership style.
The coaching mindset
We believe that a coaching culture is a holistic term which embraces skills, attitude and behaviour in an organisation. There is a misconception that coaching is about learning special techniques, like listening and asking questions. These are indeed coaching skills, but we believe that in a 'coaching manager' it is the underlying intention behind the words that matters, ie treating people with respect, focusing on their development, believing in them and raising mutual trust and self belief:
Any manager whose intention is to respect and develop others will lead with a coaching mindset whether or not they have attended a course, although training in coaching and mentoring skills will enhance their approach. However, if the intention is not in place, they may well find themselves saying, "I'm using open questions but my staff still hate me!"
We encourage managers to learn and copy the skills as taught on our coach training courses, integrate them through practice, and then throw the rule book away. In this way, it is possible to manage with a coaching approach but in one's own authentic style, congruently with one's personality and values.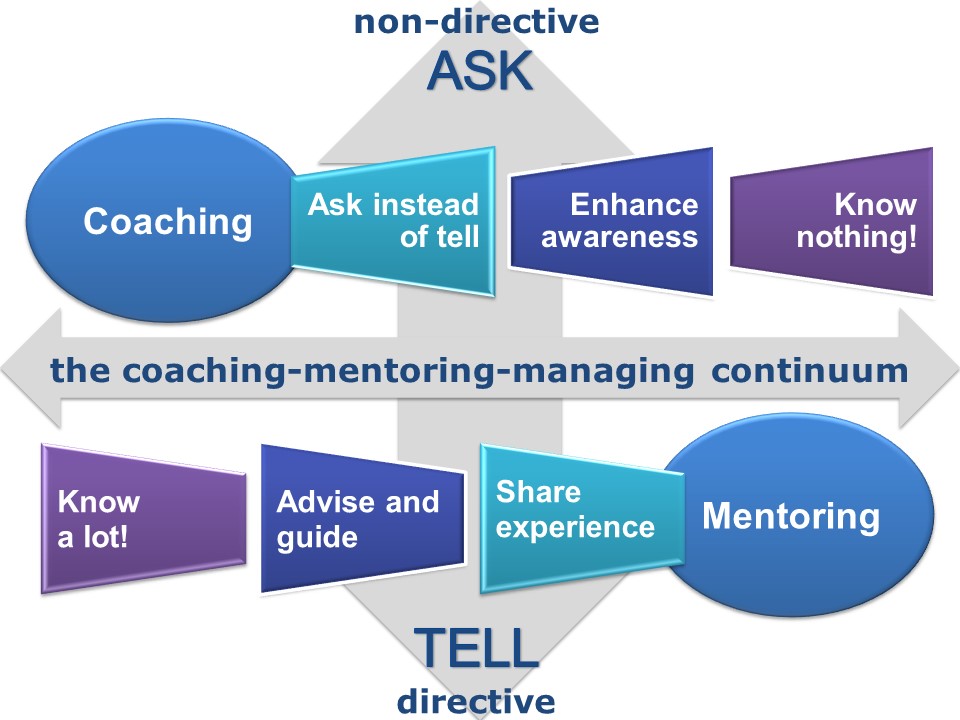 The role of today's leader requires an ability to move smoothly between being directive, guiding as a mentor and drawing out self-directed learning by asking questions.
At times managers must tell people what to do or what not to do, it is part of their role. Within a holistic GROW coaching approach, where trust is high and people are allowed to develop their potential, such direction will be an inspiring and motivating part of the relationship between leader and report.
Our coaching courses are divided into two or more modules. Between the modules, participants are paired with other course participants in order to practise their skills in a safe setting. This builds confidence and fluency, enabling them to embed the new skills and use them in the workplace after the course is over.
All modules of the the courses are specifically tailored to examples relevant to the organisation, and participants coach each other on issues currently occurring in their workplace. We are skilled at integrating our programmes into your existing coaching and leadership models and methods so that your investment in prior learning is not lost.
We are committed to ensuring that the impact of our interventions with your organisation is captured in a way that is meaningful to your business. We will work with you to develop a method that meets your specific requirements and gives you the information that you need throughout the programme.
Participants who would benefit from this course
C-Suite leaders
Directors
Senior and middle managers
Team Leaders
Learning and Development Heads
HR Executives
Trainers
Staff wishing to become internal executive coaches
Train with us in coaching, mentoring and managing with the GROW model, in-house  or on an open course.
Reviews of the Coaching & Mentoring Course
"Then, this year came to me with a gift, a precious and immeasurable gift: Manager-as-Coach training. None of the previous courses around people management I ever attended has brought me such a powerful and impactful method to help people reach their own goals. It has been a real eye-opener and a revelation of what a coach is." – Dominique Andrey, Manager Quality Assurance, Philip Morris Products SA, Switzerland.
"We have really valued the coaching and mentoring training provided by Culture at Work. People always enjoy the courses and say it is often the best training they have attended.   It really adds value to people's life – both work and personal." – Kirsty Duck, HR Manager, GE Healthcare
"I've experienced dozen of trainings… only three matter because actionable: MANAGER-AS-COACH was one of them. Years after, I still use the process and tactics at work and at home. Thank you Carol!" – Dr M'Bayang Thiam, PMI
"I'll just come right out and say – 'it was perfect'. The things that really matter to me have all scored highly. It is rare that one course meets needs/expectations in all areas." – Sue Akroyd (Head of Professional Development, Foundation for Community Dance), Arts Council England Cultural Leadership Programme
"I have entered this journey as a way to test the water and get closer to something I have always felt was close to my purpose. The coaching framework (and me being a coachee and a coach) has allowed me to shed light on quite a few blind spots and I feel now hooked to this experience and journey. Listen actively, keeping the framework and tools close, being detached as the key to being useful, but above all trusting the process and being my authentic self are the principles I take with me as I embark on this exciting path of knowing me and helping others along the way." – Jose Enrique Gonzatti, Delivery Director Visa Managed Services for Europe.
"Reflecting on all of these sessions, I can see that using the EXACT model to prioritise goal areas is vitally important, especially when the Coachee comes with such a broad goal, it is a great tool as it helps to structure the session and also allows you to move through the GROW model with all exploration being goal focussed." – Malini Craig, Witton Park Academy
"The course was fantastic.  I plan to incorporate this into my everyday interactions, line management, as well as continue with some private coaching clients. It was so valuable and really highlighted the value of coaching to me." – Sophie Harle, Director of HR, Tanglin Trust Singapore
"The depth of the course was great and gives hope for real behavioural change across our organisation. Speaking personally, despite having attended a number of business coaching courses during my career, there were some significant learnings from the Culture at Work course which have improved my coaching and leadership skills; whether it be quotes that resonated with me that I draw on in my day to day work, improved awareness of listening skills, importance of belief and trust in your coachee or the concept of detachment. This has all contributed to me being a more capable coach – inside and outside work!" – Lucinda Pullinger, HR Director, England Rugby.
" The feedback is excellent and our people are truly energised to complete the certification. Thank you." – Henry Kharoufeh, Director of Organisational learning,  Hilti (Asia) Ltd
"I think this course is fantastic – It's exceeded my expectations." – Sarah House-Barklie. Head of HR, Facilities and Internal Communications, Nectar Loyalty.
"An excellent course that has made me self-aware of taking a coaching approach. Receiving coaching has made me clear on new ways forward that will make a big impact." – Alex Thompson – Club Management and Governance Manager, England Rugby.
"Really positive – much less pressurised and better than previous coaching course. It's really been fantastic with the level of practice and feedback we've been offered alongside the theory. My confidence has really improved." – Ellie Haralampous, Client Manager, Nectar Loyalty.
"I feel non-stop like I have to say thank you very much  for this opportunity. This is an extremely useful and unusual experience and it is really motivating to do everything possible to use it properly with various people and situations around us – totally helpful and self-developing." –  Tatyana Neshta, VP Finance and IT, Hilti, Russia.
"What I most valued was being together as a team, confirmation of boundaries and how to deal with the line between coaching and telling. A positive, enjoyable and insightful course. Four years later I am still using coaching almost on a daily basis, but have to admit that it doesn't feel like coaching now, just a good way to support people." – Charles Larkin, Director Finance, Planning and Administration – PMI Nordics Cluster.
"Very relevant content and awesome explanation. James makes the training very exciting and motivating" – Pedro Ramos, Snr Planning Executive
"This is the first time I have used GROW in a group setting and it has been incredibly powerful to see the tangible benefits for people. My confidence levels have surged because I now have clarity on my role and feel better equipped to facilitate some fairly tough, emotive discussions." – Sarah Latham.
 "You have just done in fifteen minutes what normally takes me four hours" (after a trainer demo of GROW) – Senior Sales Manager NCR