Are you suffering from 'Zoom fatigue' syndrome? The initial delight of lockdown's virtual quizzes, meetings and cocktail parties seems to have given way to tedium, disengagement, and neck-strain as the world discovers how hard it is to connect more than visually through a camera.
Coaching techniques are all about communicating, so here's how coaches make virtual conversations stimulating, relaxing and meaningful:
1. Listening
Looking at the person who is speaking is always the best way to show you are listening. Try to position your device so that you can look at your camera at the same time as your screen, so that people see your eyes looking into theirs, not your half-closed eyelids as you watch them on your screen further down.
When you are replying to someone, always ensure that your words relate to something they have said, by summarizing it, or repeating it back, or picking up on one part of their thread. Then you can take it further and add something new.
2. Resolve conflict
If you have to disagree, summarise what the other person has said, to demonstrate you have listened, and then start with "Can I add something to that?" Requesting permission (see my article https://www.linkedin.com/pulse/untapped-power-permission-carol-wilson/) eases potential strain, by giving others a sense of control, while asking to 'add' something validates what has been said rather than dismissing it. Never use the words 'Yes but', which writes off everything that has gone before, including, they may feel, the person who said it.
3. Keep smiling
People are less able to sense finer emotions through digital platforms, so be sure you are wearing your friendly face, with a smile and an open, welcoming expression. A colleague was recently horrified to discover, via her new Zoom coaching practice, that she tends to scowl during conversations that require intense concentration. Sprinkle your conversation with positive comments and reasons to be cheerful. Thank or praise the person you are talking to wherever you can do it in a genuine, authentic way.
4. Have a framework
Whether the session is business or personal, it helps to go through a process of contracting, particularly if several people are present. How long will the session last? What will be discussed? Who will be present? People feel safer when they know what to expect, and the safer they feel, the more relaxed and cooperative they are likely to be. If decisions have to be made, try using the GROW sequence below (https://www.coachingcultureatwork.com/grow-manager-coach-training/). Take each step in turn, making sure that everyone has the opportunity to speak and freely express their views, at every stage, without fear of interruption: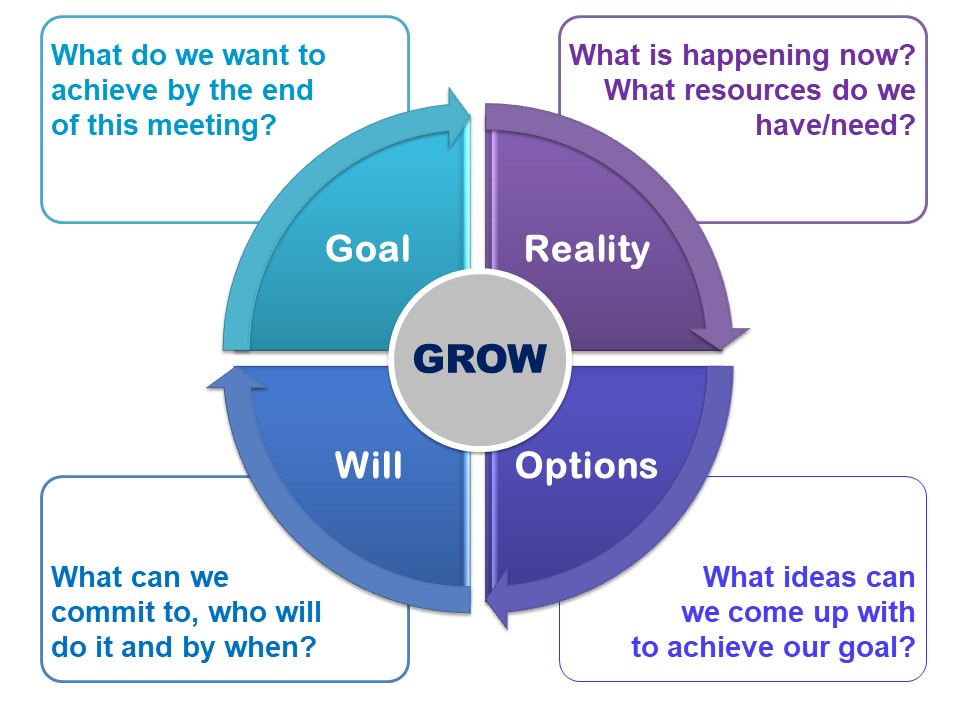 Notice that W is about having the will to commit to taking action. People perform best when they do things in their own way, whether they be introverts, extraverts, good at detail or better at the big picture. Every action that ends up on the final list must have an participant who has declared their commitment to carrying it out. If you ask people to come up with their own ideas for actions, their 'Will' to complete the action will be much greater than if it is an instruction that must be obeyed.
5. Carry no passengers
Only invite people to the meeting who need, or are motivated, to be there. Firstly, they will bring down the energy and pace of the meeting, and secondly, they will not thank you for having to attend. Not everyone is making banana bread during lockdown – spare a thought to parents who are having to wfh full time, along with home-schooling children, and running a household without domestic help.
6. Respect cultural differences
Many of today's virtual meetings take place across countries and continents. International cultures may have different ways of expressing their views, and taking these into account can help towards achieving a successful meeting. Personality differences between types of people of the same nationality may prove to be even more divisive and prone to misunderstandings – for example when the IT department has to talk to the sales reps.
You can bridge cultural differences by following the conversation instead of leading it, and mirroring the way the other person is talking or behaving, and using their words and expressions when replying to them.
One of our most popular training exercises is 'The Five Levels of Listening', (https://www.coachingcultureatwork.com/wp-content/uploads/2018/04/Coaching-Skills-The-Five-Levels-of-Listening.pdf) which teaches people to stop talking and truly pay attention while others are speaking. But our Japanese trainer says she has to about-turn the module into a framework for teaching how to interrupt, because her Japanese managers have been known to spend an hour on an international conference call, saying nothing, at all because nobody invited them to speak.
**
About the author
An international speaker, writer and broadcaster, Carol Wilson is Managing Director of Culture at Work and a Fellow of the ILM, the Professional Speaking Association and the Association for Coaching, where she is a member of the Global Advisory Panel. A cross-cultural expert, she designs and delivers programmes to create coaching cultures for corporate and public sector organisations all over the world, and has won numerous awards for coaching and writing. She is the author of "Performance Coaching: A Complete Guide to Best Practice Coaching and Training", featuring Forewords by Sir Richard Branson and Sir John Whitmore, and translated into three languages; "The Work and Life of David Grove: Clean Language and Emergent Knowledge"; and "The Coaching and Feedback Handbook", an internal publication for IKEA. She has contributed to several other books and published over 50 articles including a monthly column in Training Journal.
At Culture at Work we provide global coach training and leadership development programmes at all levels, including C-Suite, for organisations in 33 countries and in all main business languages. We can provide all our programmes through distance learning, and welcome bookings for face-to-face courses which can be switched to distance delivery at short notice if lockdown prevails.
We deliver in-house courses, open coach training courses in London, ILM Endorsed, Level 5, Level 7 and Diploma coach training qualifications, manager-as-coach courses, plus general leadership development and team building programmes.
If you want to bring a coaching culture into your organisation,
click for details of the following training courses and workshops:
ILM Accredited Coaching and Mentoring courses
Coaching and Mentoring workshops
Leading Without Formal Authority training
Unconscious Bias workshops
Mental Health First Aid workshops
Neuroscience in Emotional Intelligence workshops
Mindfulness workshops
Coaching Keynotes and Conference Speakers
Train the Coach Trainer
Coaching Supervision workshops
Open Performance Coach Training courses
We deliver in-house programmes worldwide and in all main business languages
Download free coaching articles here
For further information email us or call 020 7022 4923